Alarm & Vision are able to supply, install and maintain all aspects of security alarm systems. Our security solutions are designed for your peace of mind and use the very latest equipment.
Our free survey provides the means to identify where and what systems should be employed within your property, taking into account consideration of your specific requirements and budget. We will provide you with a quotation that will cover all aspects of the work to be undertaken, from design to installation and maintenance.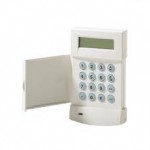 For domestic and commercial premises we offer intruder alarms incorporating all the latest detection devices, including door contacts, microwave and passive infrared (PIR) technologies, glass-break detectors, panic alarm buttons and much more.
Each System is designed individually with your needs and application in mind. The specification of your Control Panel will depend on your specific design requirements, varying from an audible system to a sophisticated integrated up-load/down-load management system with transmission of alarm signals to our monitoring station.
Our use of WebWay transmitters allow the exact zone to be identified by the monitoring station enabling you to know where the activation has originated from prior to the keyholder arriving at the property. Should the property be fitted with one of our CCTV systems the keyholder would benefit from being able to view images of the property on their smart phone prior to attending site.
Please contact us to arrange a site survey.